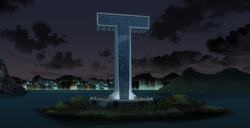 ---
The Titans Tower is the Teen Titans' base of operations.
The Tower served as the home to the sidekicks and junior heroes of the world, which included Robin, Speedy, Bumblebee, Beast Boy and Kid Flash. Later, they welcomed Starfire to their home as well.
The Tower has several rooms, which include a fair number of bedrooms, a training room, a kitchen, a living room, a computer room and bathrooms. There are likely storage and garage rooms at the bottom of the Tower.
Residents
Edit
Damian Wayne/Robin II
Garfield Logan/Beast Boy
Jaime Reyes/Blue Beetle
Dick Grayson/Nightwing
Koriand'r/Starfire
Kareen Beecher/Bumblebee
Roy Harper/Speedy
Wally West/Kid Flash
Appearances
Edit
According to Starfire, when Terra lived in the tower, it would get occasional earthquakes because of Terra's powers activating when she had nightmares.
References
Edit
Ad blocker interference detected!
Wikia is a free-to-use site that makes money from advertising. We have a modified experience for viewers using ad blockers

Wikia is not accessible if you've made further modifications. Remove the custom ad blocker rule(s) and the page will load as expected.