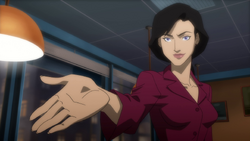 ---
---
---
---
---
---
Lois Lane is Clark Kent's partner at work at the Daily Planet.
Biography
Edit
Lois Lane and Jimmy Olsen watched as the President told the people about the Justice League saving the day.
At a Greek restaurant, Lois bumped into Clark Kent, who was on a date with Diana Prince. Clark introduced her to Diana and Lois sat next to Clark and spoke to Diana. She then left, after Shazam and Cyborg arrived.
Later, Lois and Jimmy were chased by Atlanteans who were attacking Metropolis. But Wonder Woman saved their lives, letting them to escape.
Appearances
Edit
Ad blocker interference detected!
Wikia is a free-to-use site that makes money from advertising. We have a modified experience for viewers using ad blockers

Wikia is not accessible if you've made further modifications. Remove the custom ad blocker rule(s) and the page will load as expected.